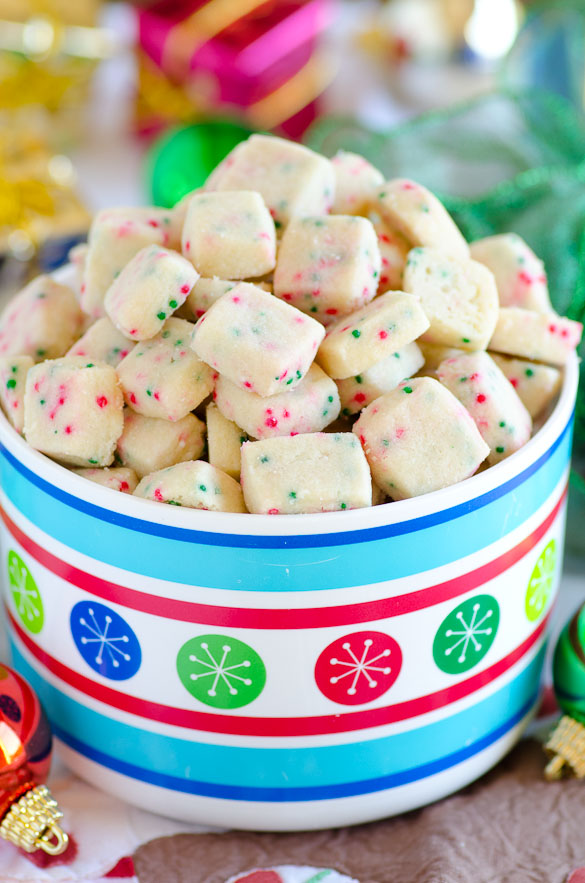 Jingle Bell Bites
INGREDIENTS:
1/2 cup unsalted butter, at room temperature (plus more to butter the pan)
1/4 cup granulated sugar
1/4 teaspoon almond or vanilla extract
1 1/4 cups all-purpose flour
1/4 teaspoon salt
4 teaspoons Christmas colored nonpareils
DIRECTIONS:
Preheat the oven to 325 degrees F. Butter the bottom and sides of an 8-inch pan, then line with parchment paper, pressing the sides and corners to stick.
In a large mixing bowl, beat the butter, sugar and extract at medium speed until creamy, about 1-2 minutes. Add the flour and salt. Mix on low speed until a dough forms. It will be crumbly at first, but keep beating. Stir in the nonpareils until evenly distributed.
Transfer the dough to the lined pan and press evenly into the bottom. Use the parchment paper to lift the dough from the pan and transfer to a cutting board. Cut the dough into 1/2-inch square pieces (a pizza cutter works well). Place the squares 1/2-inch apart on an ungreased baking sheet; discard parchment paper. Bake for 13 to 15 minutes, or until bottoms just begin to brown.
Thank You, Nikki Gladd for this Awesome Recipe!